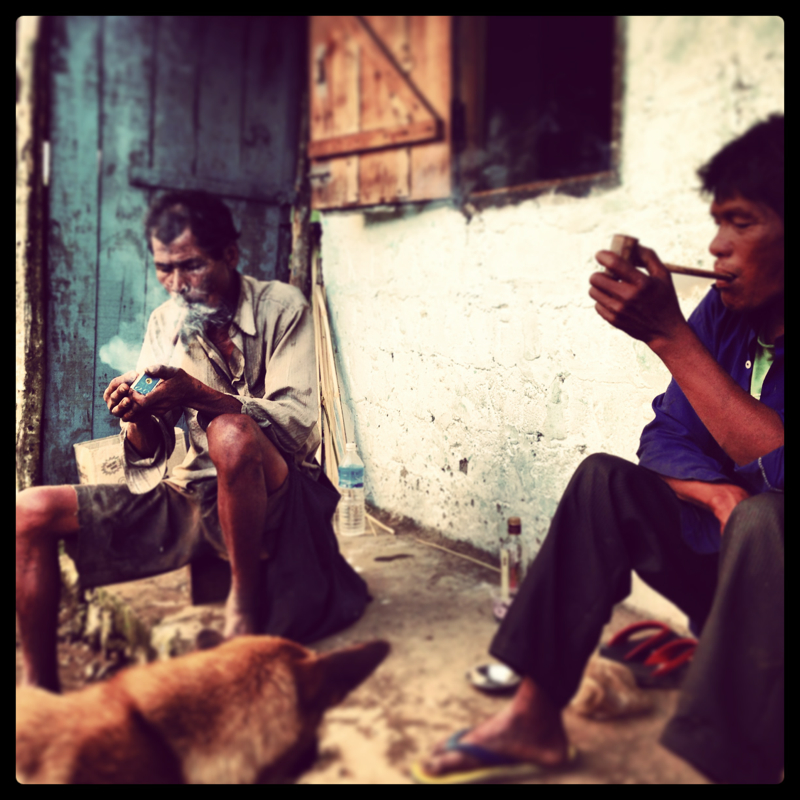 Enjoying a pipe
Most of you probably know that the 4th of July is only celebrated in the USA and wherever its citizens gather around the world. Well, being the only citizen in at least a 100-mile radius where I am in India, I took it upon myself to celebrate, starting on the 3rd. Fortunately, my friend Hannah put together an album of patriotic favorites to help me get into the spirit.
One of my favorite things about July 4th is the time you get with friends, and so I spent most of the afternoon of the 3rd and of the 4th with friends. Another of my favorites is barbecue and roast pork, and on the 3rd I went to Syntu Ksiar below Jowai with my friend Ram and others for fried smoked pork. Quite fabulous stuff. That's where the picture above is from: some older gentlemen enjoying their pipes after a day of farming and fishing.
In the evening I went to a nearby restaurant with my friend Rebecca (who I know from 2 years ago) and co, for drinks, fried prawns, and french fries (or should I say 'freedom fries'?). It was great to hang out and catch up. The only thing missing from the day was fireworks, which I probably could have managed if I'd really wanted to, but the local police might not have liked it. Better not to worry about it.
All in all, though, quite a success, I'd say. I realized it's been 4 or so years since I've celebrated American Independence Day in the US with all the trimmings. Maybe next year…